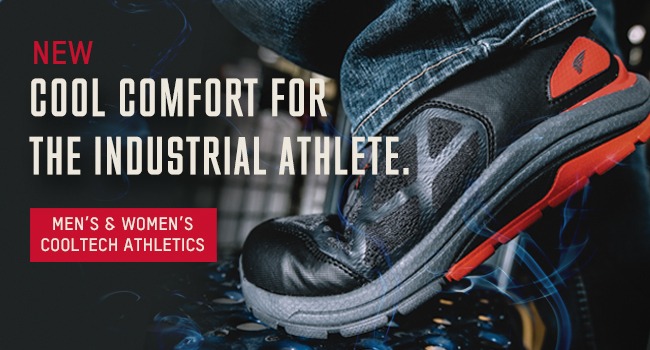 Our Services
Red Wing for Business

Red Wing for Business makes it easy for businesses like yours to honor their commitment to worker safety. Our team of experts will work with you to customize an ideal footwear program that meets both your needs and your budget. The end result is a smooth, seamless experience for you and superior safety footwear for your employees. Stop by our Red Wing Store in Hanover, Pennsylvania, call
(717) 633-7799
or inquire
online
to learn how easily you can set up customizable digital tools that will streamline your safety program for your business and your employees.
Expert Fitting

Fit is more than a size. In fact, proper fitting must account for foot length, width, arch, instep and "heel to ball" measurement, along with overall foot shape. Your Certified Fit Specialists
TM
at the
Hanover, Pennsylvania Red Wing Store
are trained to ensure you get the best fit possible for both your feet and your work environment.
About Us
Since opening in 1988, our family-owned Red Wing Store has provided the Hanover area with the highest-quality work footwear, accessories, care products and service. All our employees are certified Red Wing Fit and Product Specialists — serving you with more than 45 combined years of footwear sales experience.
One of our specialists will measure your feet, discuss your safety and environmental conditions and provide a quick digital foot scan to identify arch type, foot size and underfoot pressure points. We will then use this data to select the ideal purpose-built footwear for you and your work environment, while suggesting an optional custom footbed to optimize all-day comfort In addition to three work brands, we also have you covered off the job with our Irish Setter Hunt, Vasque Performance Hiking and Red Wing Heritage footwear brand(s).
You can find us in the same mall as the north Hanover Giant and Walmart on the Eisenhower "Golden Mile". Give us a call at 717-633-7799 or stop by the Hanover store today.
Can't come to us? We may be able to come to you! If you're a local, regional or national business, Red Wing offers onsite mobile shoe store sales and service. Each mobile shoe store features customized inventory to ensure your employees are correctly fitted with purpose-built footwear for the hazards they encounter. Stop by 437 Eisenhower Drive or call 717-633-7799 or inquire online to learn how easily you can set up a HassleFree® Safety Footwear Program for your business and employees.