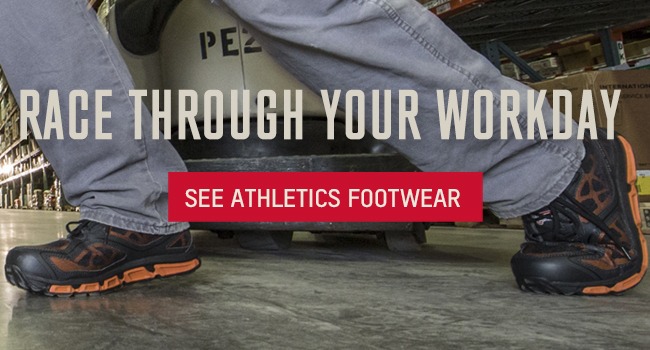 Our Services
Special Orders

Red Wing Shoe Company manufactures hundreds of footwear styles across six brands. While we make every effort to offer the broadest selection possible, there may be occasions when we don't have the footwear you need in stock. Fortunately, we can have almost any style available shipped to the
Paducah, Kentucky Red Wing Store
in a timely fashion.
Footwear Maintenance

Your
Paducah, Kentucky Red Wing Store
offers complimentary boot checkups, cleaning and conditioning, along with replacement laces for the life of your Red Wing footwear. Stop in today!
Industrial Sales

Our proven HassleFree
®
Safety Footwear Program makes it easy for businesses like yours to honor their commitment to worker safety. Our team of experts will work with you to customize an ideal footwear program that meets both your needs and your budget. The end result is a smooth, seamless experience for you and superior safety footwear for your employees. Stop by our Paducah, Kentucky Red Wing Store, call
(270) 442-2556
or inquire
online
to learn how easily you can set up a HassleFree
®
Safety Footwear Program for your business and employees.
Expert Fitting

Fit is more than a size. In fact, proper fitting must account for foot length, width, arch, instep and "heel to ball" measurement, along with overall foot shape. Your Certified Fit Specialists
TM
at the
Paducah, Kentucky Red Wing Store
are trained to ensure you get the best fit possible for both your feet and your work environment.
About Us
Red Wing Shoe Store has been in Paducah since the mid 1970's. We are a full service retailer of only the highest quality work and casual shoes on the market today. All of our shoes and boots are made with only the hightest quality leather and with master craftsmanship. We offer a wide range of sizes and widths and can order in sizes and styles we don't have in stock normally within a week. Come in for personal foot measurement and sizing and see how a properly fitting shoe can make your workday feel alot better. Our manager, Kerry Nelson, has over 20 years of experience managing Red Wing Shoe Stores and would absolutely love the opportunity to serve your footwear needs.